It has ben so hot in San Francisco this week. But after a summer of complaints about rain and fog, I'm biting my tongue. Instead, we've gone swimming twice, gotten our toes in the grass, made our chili with fresh tomatoes (AMAZING), and finally, had a beer on the front steps.
It has wreaked havoc with one of my favorite fall activities, though: planning the fall wardrobe. I did manage to asses J's clothes and maximize my coupons and the sales times to the tune of spending less than $50 on his clothes (still need a coat, and this means I am making his mittens, scarf, sweater and slippers). Thank you universe, for giving me friends who work at kids stores, and friends who design kids clothes, and awesome kids second hand stores in my neighborhood.
But for me, it's hard to think of how a new pair of jeans might feel vs. some wooly tights whenI am wearing short shorts and a tank top to ride my scooter around the block to cool off. And yesterday at Bikram, the teacher told us the studio was struggling to keep the room COOL enough for practice. Crazy yoga addict that I am, I signed up for the 30/30 challenge for October, any way.
At least this gives me an excuse for some legitimate, practical clothes shopping. Maybe just window shopping for now,but I only have 3 pairs of yoga shorts and two tops, and I don't think they will make it through 30 days straight of wear and tear.
The shorts
here
are cute, and I figure Bikram in Manhattan is comparable to these temperatures, but I usually pay $20... does $50 get me shorts that last a month?
Is there a way to make your own yoga clothes?
Until I learn how, I really kind of love these:
They're reminding me of this print I saw
on design*sponge
: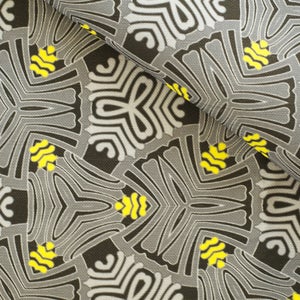 Maybe yoga-wear will be my path to a fall wardrobe, a way to try a new palette?